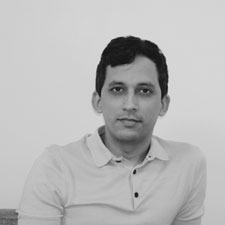 Alejandro
Rosales
Trinchet
(+46) 735860638
Alejandro Rosales Trinchet is an Industrial Designer interested in furniture with a broad profile and experience in leading and managing design projects. A usability lover, skilled at generating new product concepts and adapting them to production.
Interests: Innovation and sustainable productions, as well as the built environment design.
Languages: Spanish / native language. English / fluid. Swedish / fluid.
CAD knowledge: ArchiCAD, AutoCAD, Corel Draw, Office, Adobe.
CV
Qualification
2008-2011 Master in Management and Design Innovation. Instituto Superior de Diseño (ISDi-Cuba). Exam: "Modelo para Gestionar Proyectos de Diseño Industrial en Centros de Investigación Científica" (Book in Spanish).
1998-2003 Industrial Design. Instituto Superior de Diseño (ISDi-Cuba) 5-years degree, included a semester as an exchange student at Bauhaus-Universität Weimar, Germany (2002). Exam: "Diseño de sistema de productos para el servicio de venta de alimentos en las calles" (Product Design – Engineering and Technical Solutions).
Work experience
2016-2020  Product developer, Furniture, at WhiteOrange AB (Sweden)
2003-2016  Freelance Designer (Cuba-Mexico-Spain-Sweden) as Project Manager for Product Design in appliances, technical aids & medical equipment. Also with experiences in Interior design and Furniture design.
2003-2013  Design Lecturer (Havana – Cuba) ISDi. Design Department Chief at the Industrial Design School. Responsible teacher of the industrial design group. Topics: Ergonomics and Industrial Design.
Other
Salao Design Casa Brasil, 2011. Product design prize (Modality: students) for "Cubiertos para Pastas" by David Berdellans (student) and Alejandro Rosales Trinchet (guidance teacher). Click on "Student" on this website http://www.salaodesign.com.br/en/#/premiados/2011.
BID-10 Bienal Iberoamericana de Diseño, 2010 Spain, Prize to the best product in industrial design from Cuba to "Lanseta Laser", catalog p.100-101, product 150. A product for bralax in cooperation with IPN, Mexico, 2010.
Premio Ondi 2010 (Cuba) ONDi (The principal office for design activities in Cuba). Prize for the best industrial design product in 2010 to "Lanseta Laser (bralax laser labs)".
Publications
"The Cuban House, Possible Repurposing and Redesign". A3manos (In Spanish. No.2 Digital.pdf/p.141) with Omara Ruíz Urquiola